Terrabos Consulting
Terrabos Consulting is a Darwin-based consultancy business focused on the Northern Territory oil and gas exploration, mining and pastoral industries. Established in April 2011, Terrabos is Territory owned and operated.
Managing Director, David Armstrong, has a strong and successful background in management of oil and gas exploration operations, including complex logistics, pastoral and Indigenous land access negotiations and management. David's skills and achievements in Aboriginal economic development and pastoral development are unsurpassed in the Territory. He has unique interpersonal and cross-cultural communication and negotiation skills, honed by complex negotiations between traditional Aboriginal owners, the Northern Land Council, pastoralists, government agencies and funding bodies. This coupled with his wide experience working in management roles in the pastoral industry, his experience in civil construction and his expertise in business, gives Terrabos the unique ability to offer specialised services across many different areas concurrently.
The following diagram represents Terraboss' areas of operation: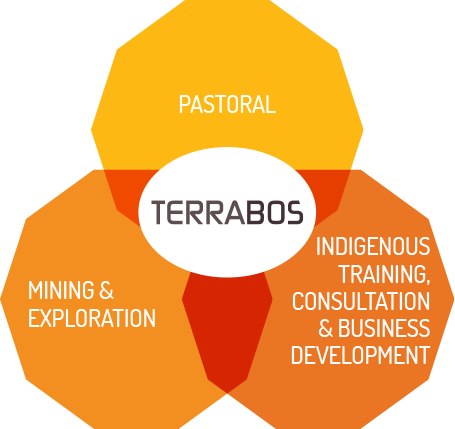 David has over 25 years experience in rural and remote Australia. His experience covers cattle station management including pastoral operations, budgets and planning, staff management and training and infrastructure development and construction. David holds an Advanced Diploma in Rural Business Management and Certificate 4 in Workplace Training and Assessment.
Prior to establishing Terrabos, David worked for 5 years at the Northern Land Council (NLC) in Rangeland Management. The NLC is the peak representative body for Aboriginal people in the northern half of the NT. His work there focused on sustainable pastoral development on Aboriginal land including negotiating long term lease agreements on Aboriginal land under Northern Territory Aboriginal Land Right Act 1976, between traditional owners and third party proponents. He successfully negotiated around 18 pastoral leases equating to approximately 50,000 head of cattle back on country and a number of full time jobs. Consequently, David has developed an in-depth understanding of the NT Land Councils, the Northern Territory Land Rights Act and the Native Title Act, as well as developing extensive personal contacts throughout Aboriginal communities across the Northern Territory.
Download Company Profile